Our students here at NY Med Training know the benefits of quality education. The Medical Assistant course we offer is one of the premier training courses here at NY Med Training. After you've completed your 900-hour course (this includes 600 classroom hours and 300 externship hours), you will be more than prepared to join the medical field as a qualified and professional Medical Assistant. While many schools pride themselves on having the best instructors or the best equipment, NY Med Training offers both of those things and more. Our extensive training course includes:
Anatomy, Physiology & Medical Terminology (120 HRS).
Phlebotomy (60 HRS).
EKG (60 HRS).
Laboratory Procedures & Techniques (120 HRS).
Medical Billing (60 HRS).
Medical Office Administration (90 HRS).
Microsoft Word (60 HRS).
Typing & Keyboarding (30 HRS).
and Quality Hands-On Training In A State Of The Art Facility!
NY Med Training is also proud to be in full compliance of all State laws as a fully licensed and accredited educational facility. Our instructors all have real-world work experience within their respective areas of instruction. NY Med Training is proud to be:
Fully Licensed By the New York State Department Of Education.
Nationally Accredited.
and Approved For Federal Financial Aid.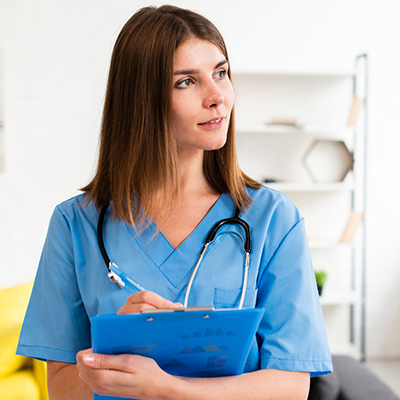 Did You Know?
According to the Bureau of Labor Statistics, "Employment of medical assistants is projected to grow 29 percent from 2016 to 2026, much faster than the average for all occupations. The growth of the aging baby-boom population will continue to increase the demand for preventive medical services, which are often provided by physicians. As a result, physicians will hire more assistants to perform routine administrative and clinical duties, allowing the physicians to see more patients." This means those who receive a quality education from a reputable school like NY Med Training have a better than average shot of getting a great job shortly after completing their course. The fact that the industry is constantly growing also ensures higher potential salaries and job security for those who choose to pursue careers as Medical Assistants.
Remember…
The experts here at NY Med Training have been providing quality medical assistant training in Manhattan, Queens, and Long Island New York for over 15 years. Our success rate is high because our students leave with an unparalleled level of knowledge and understanding of what goes into becoming a qualified Medical Assistant. There aren't many schools that can say they offer the best medical assistant training in Queens, Long Island, and Manhattan, let alone an all-inclusive experience that includes:
Hands-On Training In One Of Our 3 State Of The Art Facilities.
Guaranteed Internship Opportunities.
and Job Placement Assistance Upon Completion Of Your Course.
Are You Ready To Work Toward The Career You've Been Dreaming Of?
With over 15 years of experience and the best instructors in the industry, NY Med Training offers its students the best medical assistant training in Long Island, Queens, and Manhattan. Our students are always among the best prepared upon entering the medical field. This is due in no small part to the fact that our students always receive quality hands-on training in one of our state of the art facilities, amazing internship opportunities, and job placement assistance upon completing their courses. Our students are the best because we give them the tools to succeed. Are you ready to stop wishing for a better career and get after it? Call NY Med Training a call today in Queens (718) 460-1717, Manhattan (212) 947-4444, or Long Island (516) 778-9393.