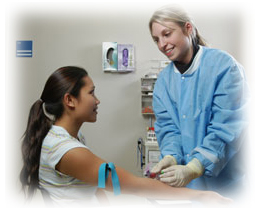 At New York Medical Career Training Center, we offer a comprehensive Phlebotomy Technician Training program of 36 hour.
The profile of Phlebotomy technician is one of the most in demand job profiles in medicine, today. As a technician of Phlebotomy, you'd be expected to deeply understand every dimension of the discipline. Through our program, you will gain the prowess to meet the growing demands of the industry.
Your job description will primarily be concerned with collecting and/or preparing blood samples and other specimens.
Commonly used methods in phlebotomy include vacuum method and autolet blood withdrawal. In addition, you need to possess a thorough knowhow about the equipment used. This includes microhematocrit centrifuges, hemogloginometers, glucometers, and more.
We consider it, our solemn responsibility to make our students familiar with all the associated vital aspects of this discipline, in our all-inclusive training program.
This means, by the time you're training is complete; you won't just know how to follow instructions given by your seniors, but also, how to go about it properly, bearing in mind the legal obligations, safety protocols, with a strong backing of a general awareness about the field.