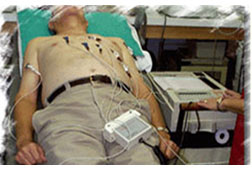 Student will label the major internal and external structures of the heart; describe the major functions of the cardiovascular system. Identify the five types of blood vessels, label the electrical conduction of the heart and obtain a standard EKG rhythm strip. Describe and identify ECG characteristics of Sinus Rhythms, Atrial Rhythms, Junctional Rhythms, Ventricular Rhythms, Atrioventricular, AV Blocks, different components of Pacemaker Rhythm.
Phlebotomy Technician
36 hrs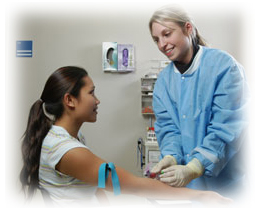 In this course students will be able to demonstrate various methods of Phlebotomy such as; vacuum method for venous blood withdrawal, an autolet blood withdrawal for glucose level, the proper use of a microhematocrit centrifuge, proper use of a hemogloginometer and obtain a hemoglobin level. In addition students will learn the proper use of a glucometer to obtain a glucose level. Identify and label the parts of the most common diagnostic laboratory equipment, use basic skills in context of therapeutic and lab procedures.
The duration of EKG and phlebotomy technician training offered by New York Medical Career Training Center is 36 hours. The program is meant to provide students with complete training for comprehensive learning. After the completion of program, students are provided with EKG training certificate.
In our EKG training program, candidates are trained to perform electrocardiograph on patients that are being supervised by a physician, obtain blood samples and other specimen prescribed by licensed health care departments.
They also learn how to label samples collected in tubes with adequate information about the patient, such as name, date of birth, time of collection, etc.
We encourage our students to prepare for National certification exams conducted by NHA to receive professional excellence in healthcare (although it is absolutely optional).
Our EKG training program covers:
Electrocardiography
Basic electrophysiology
Physiology and anatomy of cardiovascular system
Sinus, atrial and junctional rhythm
Analyzing Pacemaker functions and rhythm
How to perform an ECG
AV and ventricular rhythm and AV blocks
Phlebotomy training program covers:
Basics, physiology and anatomy of phlebotomy
Procedure of blood collection and right way of handling equipment
Safety of specimen handling
Venous blood withdrawal method
Usage of microhematocrit centrifuge, hemoglobinometer for obtaining hemoglobin level
Using glucometer for analyzing glucose level
Basic phlebotomy skills
Competence checklist
Legal and professional issues of phlebotomy